Home Page
Beacon Target Turner

BTT-2:
BEACON TACTICAL TURNER-2
The Beacon Tactical Target Turner-2 shown below is a 90 degree turning, pneumatic operated with 12 volt D. C. controls. Designed for tactical application and intended for use anywhere you could expect a target to appear - I.E. doorways, windows, low obstacle, up from behind a couch, out from behind a barricade or simply attached to a board and placed in tall grass. It is also designed for use in a Hogan's alley, shoot house or for sniper training. The tactical can be used with paint ball, plastic training rounds or live fire. Mounting can be in almost any position, which would allow the tactical turner to turn the target left, right, up, down and even up side down. The unit was engineered to have approximately 12 inches of standoff back from the mounting surface (i.e.: door, window frame). The turner weighs approximately 8 LBS.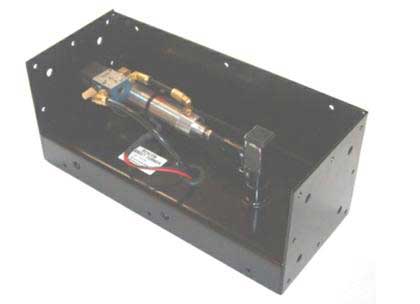 BALLISTIC MOUNTING BRACKET
A durable heavy gauge steel plate designed to support and facilitate quick installation of the tactical target turner. Mounting screws are also included.
TARGET HOLDER
An offset bracket designed for attachment of disposable 1x2's. Its versatile design is intended to support a target backer of your choice (cardboard, plastic or other type of light material sheeting) and finally attachment of the target. The holder is equipped with two holes on either side of a low corner to facilitate installation of a clip thru the two holes under the stub to secure the holder to the turner. This is required when mounting the turner upside down.
TURNER SHIELD
Constructed of heavy plate steel weighing approximately 4 lbs. The shield when installed encapsulates and protects the cylinder and valve from possible damage by fragmentation or live fire.
WHIP
Length approximately 3ft. Provides additional protection for the airline and control wire.